Dot Peen Marking Systems
Micropercussion, dot and pin markers for permanent direct part marking.
Whatever you call it – dot peen, micropercussion, pin marking, impression marking – Dapra has the industry's most diverse portfolio of dot markers, with solutions that fit seamlessly into your production processes. Cost-effective dot peen technology provides clear, permanent identification and Data Matrix code marking. This low-stress method of marking most metals up to 65 HRC makes dot peen ideal for many aerospace, oil & gas and other manufacturing applications.
Why choose Dapra for dot peen?
More than 35 years of experience supplying dot marking technology for direct part marking and traceability
Programmable 2-, 3- and 4-axis systems in every type of configuration – benchtop, portable, combo and integrated
Fast setup, onsite consultation, installation, training and support
Ethernet connectivity options
Expertise to meet all of your production requirements – rotary axes, automatic tag feeders and custom fixtures are available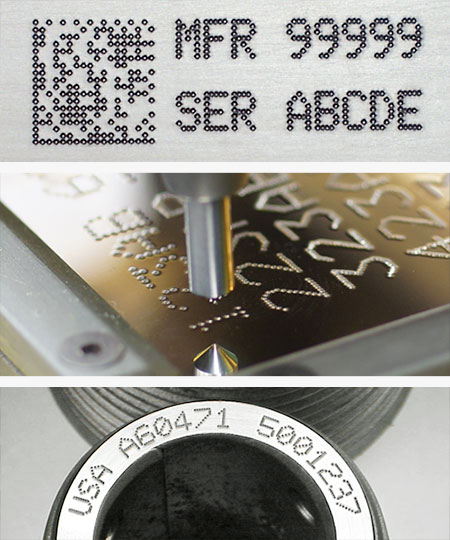 Dot Peen Marker Configurations
See our dot peen marking systems in action

Dapra has more than 35 years of dot peen marking and traceability expertise. We pride ourselves in providing a diverse selection of dependable, cost-effective solutions fueled by intuitive, powerful software and backed by industry-leading training and support. Whether you call it dot peen, pin or micropercussion marking, we have the expertise to help you.
If you're looking for a partner who will take the time to discuss your application, set you up with the best technology for the job, and support you from installation to training and ongoing tech support, you've come to the right place. Contact us using this form for a free application review, system demo or marked sample. Or, click here to find your local sales rep.
All fields marked with a * are required.
Let's Discuss Your Application!