High-Performance Fiber Laser Markers & Engravers
Solutions for high-speed, precise, deep, high-contrast part marking.
Laser marking systems provide the speed, performance and flexibility to take your operation to the next level. Dapra has developed its own line of industrial-grade fiber laser markers and engravers built from American-made components. Whether you need to mark stainless steel, anodized aluminum, other metals – or even plastic – we'll work with you to ensure you get the smartest possible solution for your applications, regulations, team and goals.
Why choose Dapra for laser?
Trusted marking and traceability experts since 1983
100,000-hour laser life for years of uninterrupted service
Free lifetime technical support
Advanced customization capabilities
Onsite consultation, installation, training and support
Experienced provider of reading and verification solutions for 2D symbologies
Class 1, Class 4, fully integrated and OEM solutions are available, featuring laser sources from 3 Watts to 100 Watts
Ecomonical, dependable European fiber laser offerings are also available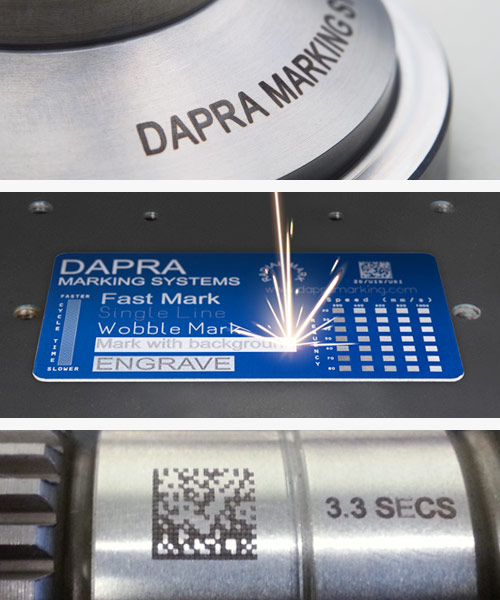 What can you do with a Dapra laser marker?
Fiber Laser Part Marking Configurations

Dapra has more than 35 years of marking and traceability expertise. We pride ourselves in providing comprehensive, cost-effective solutions fueled by intuitive, powerful software and backed by industry-leading training and support.
If you're looking for a partner who will take the time to discuss your application, set you up with the best technology for the job, and support you from installation to training and ongoing tech support, you've come to the right place. Contact us using this form for a free application review, system demo or marked sample. Or, click here to find your local sales rep.
All fields marked with a * are required.
Let's Discuss Your Application!