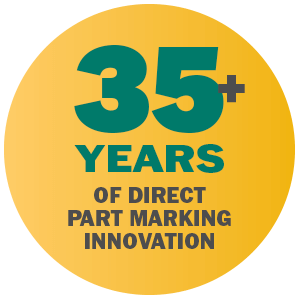 More than 30 years of experience combined with proven technology ensures Dapra Marking Systems' ability to provide comprehensive, cost-effective direct part marking solutions for your unique application. We understand that marking requirements are as individual as the end products themselves.
Serving North American manufacturers in the aerospace, automotive, defense, general metalworking and fabrication, medical and plastics industries, Dapra Marking Systems offers superior industrial marking equipment for standalone benchtop workstations, portable/hand-held part marking or integration into your production line.
Dapra Marking Systems is a proven supplier of dependable computer-controlled dot peen marking machines, laser marking and engraving systems, as well as 2D Data Matrix machine-readable systems. Dapra also offers custom-engineered systems and fixtures for individual marking requirements and applications. In addition to the marking equipment, Dapra provides part-holding fixtures, custom software, and integration with plant floor controls and manufacturing execution systems. 2D Data Matrix fixed-station read and verification stations and 2D Data Matrix hand-held readers support part traceability applications and manufacturing process improvement.
Dapra Corporation
For 60 years, Dapra Corporation has been supplying metalworking customers with superior quality cutting tools, workholding and rotary positioning products and part marking machines.
The Dapra Division specializes in providing high-velocity, high-performance cutting tools designed to provide maximum value in difficult metalworking applications. We continue to improve our products to meet more demanding performance requirements. Dapra also imports workholding and positioning equipment from Europe, including Servopress Indexing Tables, HydraVise machine vises, Allmatic Precision Vises and Tombstone Fixtures, and Biax Power Scrapers and Air Tools.
Dapra products are sold through distribution in North America. Sales and applications support personnel are located throughout the United States. In addition, both domestic and international support are located at Dapra's Bloomfield, Connecticut headquarters.
Please click here for a timeline of our company history.
Mission Statement
We are committed to identifying, understanding and meeting current and future end-user requirements with products and service of superior performance and value through:
developing and maintaining partnerships with suppliers and distributors who share our commitment;
pursuing continuous improvement in everything we do, using input from every resource available to us;
taking pride in honoring every commitment we make by performing each task right the first time and on-time with accountability, responsibility, honesty and integrity;
productive use of our human and financial resources;
respect for the time and the views of others;
using effective listening, written and oral communications skills;
learning and growing as individuals and members of the Dapra team.