Fast, High-Contrast Anodized Aluminum Data Plate Marking with Fiber Lasers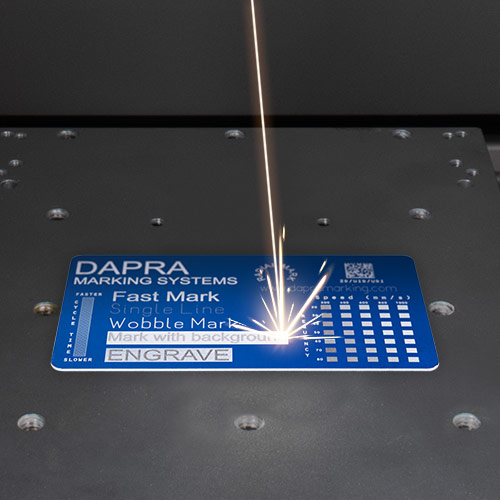 The best tool for creating crisp, high-contrast anodized aluminum data plates is a fiber laser marking system. In this demo, a 20-watt, 163 lens Dapra laser marker makes quick work of anodized plates, using a standard hatch pattern to fully remove the anodized coating and create an easy-to-read mark in less than 10 seconds.
Mark nameplates, asset and ID tags, military tags, aerospace plates, dog tags and much more
Automatically mark date codes, serial numbers, logos, graphics, 2D Data Matrix, UID, UDI, QR and barcodes, plus any alphanumeric characters with our easy-to-use software
Ask us about custom workstations and automated tag feeding systems
From power and lens options to desktop workstations and integrated setups, Dapra will help you select the optimal laser system configuration for your specific application material, mark type and budget. Modern fiber lasers are rated for 100,000 hours of life, and our industrial-grade solutions feature American-made laser sources that are built to last for years to come. Contact us for a free application review or personalized demo!
Request a Free Application Review
Call our Director of Marking Sales & Applications, Dave Noonan, at:
What else can you do with a fiber laser marker?