Dapra Marking Systems, a recognized leader in Direct Part Marking and Traceability solutions, offers contract marking services for dot peen and laser marking technologies at our Bloomfield, CT (06002) location. With more than 25 years of contract part marking experience for customers in the Aerospace, Automotive, Oil & Gas, Medical and Defense industries, Dapra can provide marking services that will meet your requirements at an affordable price.
Fully featured marking systems can cost from thousands to tens of thousands of dollars, but small shops and those with specific requirements for isolated jobs do have options for reliable marking without a large upfront investment. Most of our contract jobs are in the 30- to 50-part range, but we do take on much smaller batches and have done large runs of up to a couple thousand parts.
Our contract marking solutions can provide permanent serialization, date codes, lot codes, standard text, graphics and Data Matrix codes per your requirements. Dapra specializes in marking and verification per DoD UID and Aerospace specification. A partial list of specifications we can mark to is below.
When discussing a potential contract marking job, we will request prints of the part identifying the mark location, as well as information about the part material, what spec it needs to be marked to, and the type of mark that is required. This helps us identify the type of marking process and equipment that is best suited to your project, figure out if any custom fixturing is needed that might affect the cost of the job, and determine if our capabilities are a good fit for your needs.
For more information, please contact Rich Tatem at 800-442-6275 x226 or rtatem@dapramarking.com, or fill out the inquiry form below.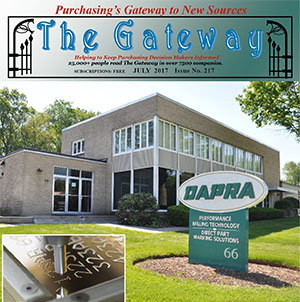 Lead Senior Service Engineer Rich Tatum discusses our contract marking services in the July 2017 issue of The Gateway magazine. "We have some customers who actually have the marking equipment they need in-house, but when certain demanding specs or part types are in play they know they can trust us to do the job right the first time." Click here to read the article (PDF).